In the Xstatic! segment I'll be filling you X-fans in about some X-media (movies, TV shows, comics, etc) or the other that is faring successfully...
Today I have some thunderous news for you X-geeks! X-Men First Class HAS best Thor at its midnight opening. While Thor managed to summon $3.25 million at 1,800 locations, XFC has telekinetically attracted $3.37 million at 1,783 locations! It's not much of a difference but if this keeps up, the projections predicted for this movie could well come true & may even surpass it!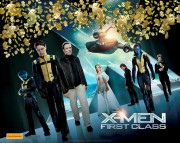 Fox has said they are anticipating earnings between $45 and 55 Million from their cash cow...And I do remember reading somewhere about expecting it to reach a cool $65 million! Let's cross our fingers for now...And watch it in theaters more than once ;P
You can read more about all the x-numbers
here
...
Wanna watch XFC in HD anytime you want at home??
Pre-order your Blu-ray &/or DVD today!